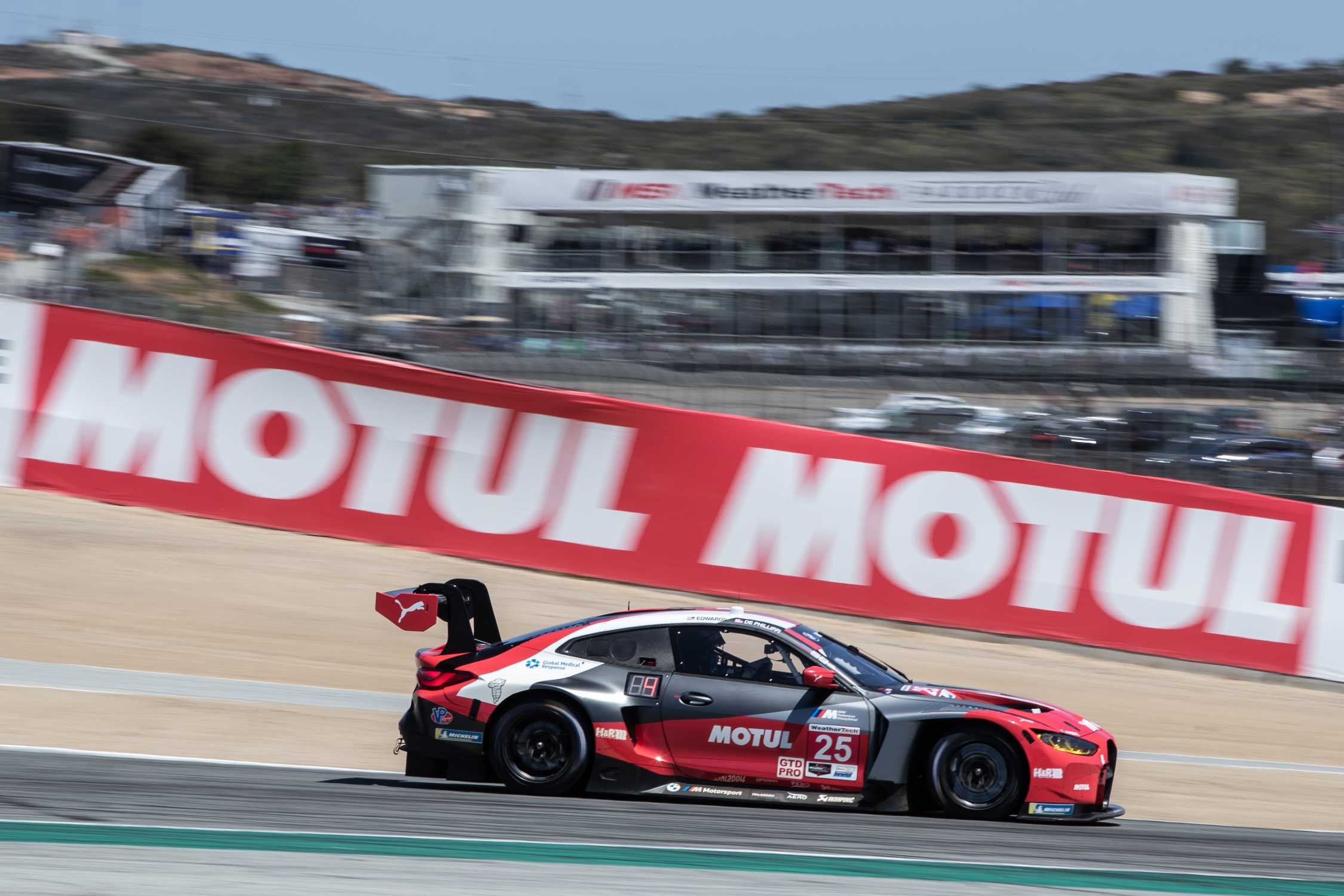 Munich.
BMW M Team RLL scored the team's first podium of the 2022 IMSA
WeatherTech SportsCar Championship season, finishing third in the
GTD PRO class at Laguna Seca (USA). Connor De Phillippi and John
Edwards (both USA) co-drove the #25 MOTUL BMW M4 GT3, completing 107
laps of the classic Californian circuit. The podium finish was the
95th since 2009 for BMW M Team RLL. In the GTD class, the
#96 Turner Motorsport BMW M4 GT3, of Bill Auberlen and Robby Foley
(both USA), also took the team's first podium of the season with a
third-place finish in the GTD class.
The #25 MOTUL BMW M4 GT3 started the race from P4 on the GTD PRO grid
and made up one position following the driver change from Edwards to
De Phillippi in the second half of the race. In the GTD class, Foley
started from P3 and quickly took the lead. The #1 Paul Miller Racing
BMW M4 GT3 made up ground as well and joined the Turner Motorsport car
in a fight for the class lead. In the final stages of the race, both
BMW M4 GT3s started to struggle with their pace a little bit and in
the end settled for P3 and P4 in the GTD class. Combined with Paul
Miller Racing's win at Long Beach (USA), each BMW M Motorsport team
has placed the new BMW M4 GT3 on the IMSA podium.
BMW M Team RLL will be back in IMSA action at Watkins Glen
International (USA) from 23rd to 26th June for
the 'Sahlen's Six Hours of The Glen'. The next IMSA race for the GTD
teams will be from 13th to 15th May at Mid-Ohio
Sports Car Course (USA).
Quotes after the race:
Bobby Rahal (Team principal BMW M Team RLL): "We can
be very pleased with our effort today and our first podium finish of
the season. Connor and John put up a good fight. Our strategy and pit
stops were right there. I am very proud of the team."
Connor De Phillippi
(#25 MOTUL BMW M4 GT3, BMW M Team RLL): "It's great
to have made the podium with the new BMW M4 GT3. The entire team made
the best of what we had today so I believe we can be proud of the effort."
John Edwards (#25 MOTUL BMW M4 GT3, BMW M Team RLL):
"We were fighting hard today. I certainly think we had second
in our sights but could have just as easily missed the podium. It was
close. We can be proud of everyone's effort today."
Bill Auberlen (#96 BMW M4 GT3, Turner Motorsport):
"We have only been looking at the podium so far this season
so to finally to be able to stand on it is very rewarding. We did not
quite have the winning setup today, but we definitely showed we have a contender."
Robby Foley (#96 BMW M4 GT3, Turner Motorsport): "We
led a lot of the race and managed the gap for the first
three-quarters. The competition seemed to have a bit more over the
long run. We learned a lot today and we should be very happy with our
first podium of the season."