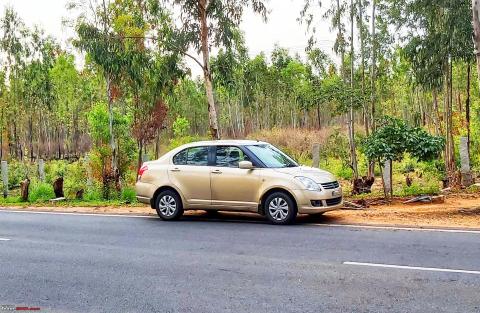 We also have plans of buying an EV sometime in 2026-27.
Follower Jessierider recently shared this with other enthusiasts.
We have two cars in our garage, a 2009 first gen Suzuki Swift Dzire (1.59 lakh km), and a 2019 Suzuki Ciaz, Delta(32k km).
Current Car Usage Pattern.
Suzuki Ciaz: Used as a daily driver by dad who works near Devenahalli (outskirts of Bangalore) and on all our highway runs. Dad retires next year so his usage of Ciaz would be very limited.
Suzuki Dzire: Used predominantly in and around city limits by me as well as dad with occasional highway runs only when the Ciaz is occupied. I prefer using a two-wheeler within Bangalore. With a possible marriage coming up in a year or two, the usage pattern is set to favour a car over a motorcycle.
We have always retained our cars and bikes very long. The Dzire which has been mechanically sound was good to go for another 4-5 years as a beater car with a minimal spare replacement on account of wear and tear. Our plan was set on buying an electric hatch by 2026-27 when much better options were available in India.
The other day we got an unsolicited offer of Rs 2.7 lakhs for the Dzire from our Maruti Authorised Service centre. In addition, at least 5 others have enquired in the last 1 year about our plans of selling the car.
This got me thinking, the ideas in my mind as below:
Option 1: Sell Dzire Immediately and buy a B1 segment Petrol Hatch – Cash in on the global chip shortage, pay the sale proceeds as a down payment and pick up an AMT Tata Tiago XTA petrol immediately. The plan is to use the car till 2027-28 after which I can pick up a new BEV. Dad in his mid-60s then can continue with the ICE Tiago when his usage would be limited to about 3000 – 4000 km/year or lesser.
Option 2: Sell Dzire after 1 year well within the expiry of its RC and stick with just Ciaz until a suitable car is launched – The Tiago was launched 6+ years back, perhaps a new model is just around the corner, it might also come with a BEV powertrain. In addition, a year or two from now would also have a few more electric cars to choose from.
Option 3: Retain Dzire for another 4-5 years – mend some of the battle scars, upgrade the ICE and continue with the usage pattern. Sometime in 2026-27 pick up a BEV as many varied options would be available in the market by then.
Additional Points
Dzire currently runs between 6000-7000 km/year, its replacement as per my calculation would run at least 10,000 – 12,000 km/year if not more. The only safety features on the Dzire are the seat belts, a metal shell, 2 additional wheels and our faith in God. The safer replacement would instil confidence on the highway which invariably means more highway runs.
An automatic seems like the way forward considering Bangalore traffic and my dad's post-retirement usage pattern (he would be the secondary user for now). Since it will be predominantly used in the city, an AMT and its abrupt transmission can be tolerated.
None of the cars in the B1 segment from Suzuki or Renault has impressed us, I have used a Tata Tiago both in the city and on highways and I was impressed by it. If I have to choose a car from the current lineup, it would be a Tiago.
A Tata Nexon EV and Tigor EV are wonderful options but I feel they are not fully ready yet, I don't want to be stuck with them when better options are all around. My mother in her mid-50s is keen on getting herself a driving license, perhaps a smaller automatic will make her more comfortable.
B2 segment cars were also considered but somehow the premium they command over a B1 segment was not justified considering my usage pattern. I did look at a few B2 segment examples on the used car market, some 3-4-year-old cars are selling within a lakh and a little more off a brand-new petrol Tata Tiago XTA
I don't know how well an 18-year-old Dzire would perform in the used car market post this pandemic and chip shortage. The cost of reregistration is minimal but I am worried about ownership costs as years tumble down on account of our preventive maintenance policy and inability to abuse a car.
Head and heart say retain Dzire for 4-5 more years or even more till I find the most suitable car for my requirement which had been the original plan but the practical and safety-conscious me is a tad bit confused.
If I retain, the Dzire needs a thorough modernisation in addition to figuring out why the car may be a little sluggish under hard acceleration. All this means at least a lakh if not more.
The basic modernisation plan is as under:
All four alloy wheels and all 4 brand-new Micheline XM2 plus rubber.
Mend all the battle scars and e, replacement of front windshield ( plenty of stone chipping) and all-new car seat covers. In addition to the replacement of all parts within the cabin which are either worn or loose.
A new ICE system, reverse camera, new steering wheel for Bluetooth telephony and audio controls, front dashcam.
Thanks.
Here's what Follower TorqueMonster had to say on the matter:
As an owner of a 12-year-old Dzire, of the same trim and same colour too, I would tell you to retain it till the next electric car purchase. The vehicle is mechanically sound and reliable, and more comfortable than any hatchback. It's also easy to maintain. Except for ICE upgrades, my car has been running sound with zero breakdowns.

I am in the same boat but hoping to buy a much bigger 4×4 later on, currently saving up for finances. And for this short delay, the Dzire has been perfect.

You may feel your car is outdated, so to improve the car, I would suggest ICE upgrades, I currently have new speakers and a touchscreen, you could add mods of your choice too. I can now easily drive the car around for the next 2 – 3 years after which I may buy a new car.
Here's what Follower AJ56 had to say on the matter:
How important is it to have the next car be strictly an EV? The reason being most affordable EVs are very poor performers at higher speeds (with the likes of Tigor being restricted to just 80 km/hr).

Normally I recommend keeping your old car, but in your case, it doesn't even have airbags or abs which is unacceptable in 2022, so I'd say sell it. Also, suggest you get a lightly used car as new cars are compromised in one or more areas this side of 15L.

Which car will depend on your personal needs and the importance you assign to different parameters like power/space/safety, etc.
Here's what Follower Kosfactor had to say on the matter:
Check out Follower comments for more insights and information.